By David Arbit on Monday, November 7th, 2016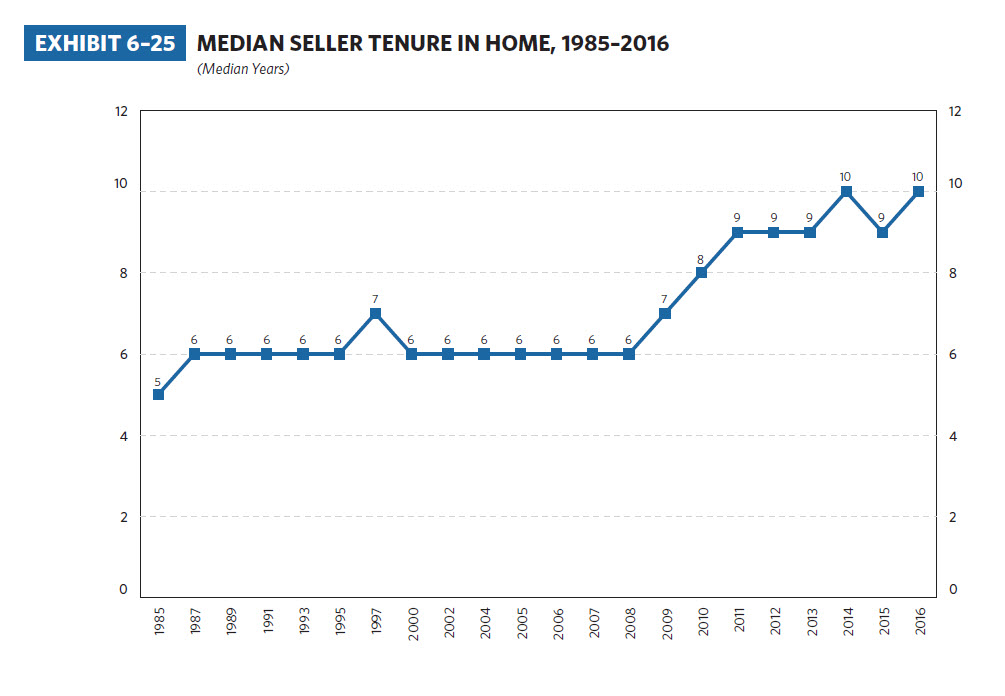 For quite some time, NAR's reports have shown that homeowners tend to stay in their homes for 5-7 years. Based on the data from NAR's most recent Profile of Home Buyers and Sellers report, that was true up until 2008. By 2011–just after the seismic shifts that rocked the market–owner tenure rose to 9 years and has been range-bound between 8-10 years since 2010. The current 2016 median tenure stands at 10 years. In summary, owning a home used to be a 5-7 year proposition, but owners now tend to be staying in their homes between 8-10 years.
The fact that sellers are staying in their homes longer since the downturn is partly responsible for our low inventory levels. That said, this is still a median, meaning that half of homeowners spend less than 10 years in their home. At first, a relatively large share of homeowners were underwater and thus couldn't sell (not the case anymore). But then rising prices, historically low rates and an improving economy caused buyer demand to surge far more quickly than listing activity. That has created a situation where sellers are confident about getting strong offers on their homes quickly, but they're hesitant about being a buyer in this competitive and under-supplied marketplace. Many are making the decision to stay and possibly remodel their current space rather than competing and possibly making full price offers or better on the most desirable homes.
Don't expect quick resolution on the inventory shortage. New construction activity isn't helping to alleviate the shortage because it's not profitable to build at the entry-level or first-time buyer price point. We're optimistic about things loosening up a tad come Spring 2017, but it will take time for the market to rebalance and regain its footing.
Although this recovery has sent sales and prices more or less back to peak levels, the hunt for equilibrium continues.
From The Skinny Blog.
In the skills school I teach with my wife, we often include like this not because it necessarily a practical method, but because it gets the students minds thinking about creative ways to interact with their environment to provide for survival needs. Give the chocolate and can firemaking a try it quite fun.. Use a number of systems, proven tipsters, method bets, etc. And ensure you have a separate betting bank for each (you can use the same betting account, as the spreadsheets you keep will tell you the amount which is in each bank).. They invest in selection heavily. NFL teams have scouts who spend the entire college season watching college players (their future hires) perform. Gronk had just four catches for 93 yards a career day for many tight ends, an average one for him. But he had arguably the biggest play of the game, catching a 36 yard touchdown pass with six minutes left in the third quarter that gave the Patriots a 20 13 lead en route to a 27 16 win.. Nope. My 9 year old son is never going to be on it. There are many
Ray Ban Sunglasses
so called coaches out there attempting to coach Network Marketers yet they have NEVER built a group or made any money in the industry. You must listen and learn from those that have been where you are now and have gone all the
NFL Jerseys China
way to the top!. I have owned a number of custom cues over the years including Bloodworth, Joss West, Gilbert and have played with many others. None of theses are any better than the cues Steve Coffee is building and some aren't as good a quality. "In a letter to team owners, [NFL Commissioner Roger] Goodell says the league office and its management council will file tax returns as taxable entities for the 2015 fiscal year. Goodell says the NFL has been tax exempt since 1942, though <a href="http://www.cheapmlbjerseysforsale.com/"
cheap MLB Jerseys
target="_blank">cheap nfl jerseys all 32 teams pay taxes on their income. Besides
cheap oakleys
the passing of the dead ball era, 1920 also saw the establishment of the sole baseball commissionership under Judge Kenesaw Mountain Landis. This replaced the old
cheap jordan
three man commission, which had been dominated by American League president Ban Johnson since its inception in 1903. The Memphis GM was former Chargers GM Steve Ortmayer. In an interview with the San Diego Union Tribune
cheap jordan shoes
in 2003, Ortmayer said of Salaam, a big supporter. As Peterson sees it, personal trainers have two roles. The first is to motivate, inspiring the lazy to push harder or go faster than they would in their own company. This video has been a curse on the organizers of the Million Man Lan events ever since, as six years later people still turn up on their forums every couple of weeks
throwback jerseys
and ask why they destroyed that poor man's computer. These days, asking that question may get you yet another patient explanation or simply a collective groan of dread from the regulars..
The suit, filed in Alameda County Superior Court on behalf of current and former Raiderettes, claims that the NFL team engaged in wage theft and other unfair employment practices. Specifically, the suit charges that the team withholds all pay from the Raiderettes until after the season is completed, does not pay for all hours worked and forces the
wholesale china jerseys
cheerleaders to pay many of their own business expenses.Also, the strap, this is not quite as easy as the one that I showed you before. This one would involve taking the straps out of the clip. Adjust the size, and then put the clips back on. These goggles, like I said, they're also anti fog, they're UV protected, and it's really just a matter of getting used to adjusting the goggles. But how well do we really understand the health impacts of marijuana? At a private dinner party for journalists last week hosted by
NFL Jerseys Cheap
National
nicho
Geographic and USA Today, NIH director Francis Collins voiced concerns: Studies have shown that prolonged use of the drug by teenagers can lead to permanent decline in cognitive ability, and the possible contribution of pot smoke to lung cancer is unknown. "We don't know a lot
Cheap Jerseys
about the things we wish we did," Collins said.It sounds like a lot of effort to go through to make something that's just super, super black, but the creators in England admit that the darkness of the material isn't its most important feature (you can't make a ninja costume out of it, for example, because it'll stand out from the shadows it's just too black). The big thing is that it's 10 times stronger than steel and better at absorbing heat than any other known material.So you'd think that the animals living in the Hudson would have either completely died off or mutated into hilarious pizza loving crime fighters and you'd be mostly right. But only because no one told you about the Atlantic tomcod. Over the past 20 to 50 generations, the tomcod has done something that would
cheap jerseys china
usually take thousands of years or a comic book origin story to pull off: They've evolved immunity from the poison in their water.The Ab Lounge is
hockey jerseys
a great machine for anyone of any fitness level to use. The Ab Lounge is great for beginners who are looking to start an exercise program
NFL Jerseys China
and it excellent for advanced users who are seeking to augment their training regimen. Most
authentic nfl jerseys
people, when they begin researching which
nfl jerseys china
abdominal machine is best for them, either start with the Ab Lounge or inevitably end up with the Ab Lounge, which is why it is such a popular ab workout
cheap oakley sunglasses
machine.
September is a beautiful time of the year for sports fans. Most notably, it means the start of football. For many, it also means helplessly managing three fantasy teams, chasing down 6.5 point spreads and of course, hoping that fresh new recruit is the answer to your team's problems. Since you can get your NFL fix just about anywhere else, I figured why not become your go to source for college football pick'em. The season hasn't yet started and we already have
nfl jerseys shop
two massive controversies with Ohio St. and Miami, not to mention Texas A leaving the Big 12 for the SEC. These are good omens.The big question in Cleveland is whether Hue Jackson can get Griffin back to his 2012 rookie of the year form. But here the thing: Griffin is still the same player he was back then, and that not necessarily a good thing. Washington just happened to run an offense that played to his strengths and masked his weaknesses specifically reading defenses from the pocket before Griffin demanded the offense to keep him in the pocket. That clearly didn work out for him. But Jackson offense should
Cheap Jordans
be similar to the one we saw Griffin pilot four years ago. The reads will be clearly defined and Jackson will put Griffin legs to good use.Chartered Psychologist Graham W. Price has helped many clients over their superstitions so I asked him
cheap nfl jerseys
fir some advice to Price, psychologists include superstitions among a wider range of human traits collectively called thinking that includes other questionable beliefs ranging from a harmless belief in fairies through mildly disturbing beliefs in the paranormal to potentially more harmful beliefs such as fanatical religion.And Bayer didn't stop the innovation train at Drugging Children Station. They also got into the profitable business of poisoning vermin. IG Farben, Bayer's parent company until it was broken up after the war, bought a firm that invented the cyanide
oakley sunglasses outlet
based pesticide Zyklon B. Unfortunately for, just, everyone, the Nazi definition of "vermin" covered "everyone who isn't Aryan as fuck, especially Jews," and Zyklon B became a major killing instrument of the Holocaust. Bayer apologized for their role in the Holocaust in 1995, and then four years later, a lawsuit was brought alleging that camp inmates were injected with diseases as part of Bayer clinical trials.The Broncos were celebratory, but not over the top. Nothing like the celebration that look place when the
cheap China Jerseys
Panthers won a short while ago in the NFC Championship game. That was a hot mess. And somewhat rude, to do that much celebrating before the game was even over. Newton did jumping jacks, did chest bumps, and generally ran around like a man possessed. Of course, this time the Panthers had no cause to celebrate. Just a little bit of karma kicking in if you ask me.